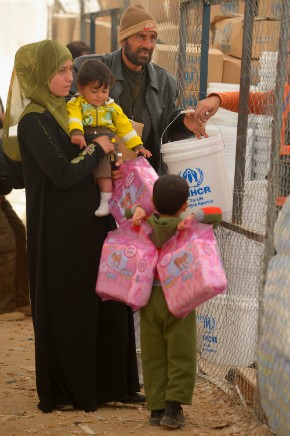 In November a third American was beheaded by the so-called Islamic State of Iraq and Syria, which has taken control of parts of those two countries. Peter Kassig was captured in Syria, where he was working as a volunteer medical assistant, trying to address what a top United Nations official has called "the biggest humanitarian emergency of our era."
According to the Office of the United Nations High Commissioner for Refugees, as many as 13.6 million people have been displaced by the conflict in Iraq and by civil war in Syria. Over 3 million Syrian refugees are now encamped in the neighboring countries of Jordan, Lebanon, and Turkey. Nearly 2 million Iraqis have been displaced this year.
The refugees put a huge burden on their host countries. Lebanon, a country of 4 million, has over 1 million registered refugees. With winter approaching, these refugees face bleak prospects. Their plight is exacerbated, the UNHCR claims, by an underfunded relief effort, which faces a shortfall of $58 million. The charity Oxfam charges the United States with negligence in supporting refugee efforts, claiming that it has contributed only 60 percent of its fair share.