Watching the academy gut itself
Most of us have seen a person gut a fish, but have you seen a fish gut herself? Probably not. But sometimes that's what it feels like watching the academy in the last decades.
The cost of tuition has gone up drastically. Basically, we have academic institutions that put a premium price tag on education. In fact, it's a price tag that has gone up 1,200 percent in 30 years, leaving many graduates in extreme debt, and causing others to drop out before their education is completed.
The value of education has plummeted. The odd thing is that when a person takes full advantage of the educational system in this country, when they put their time, energy, and creativity into earning a Ph.D., then the very same universities that have been trying to convince us that education is worth that much inflation, turns around and tells the Ph.D.s that their hard work is worth about . . . 1-3K per class for an adjunct teaching position. So the value of education is being cut dramatically by the very same people who are trying to inflate the cost of education.
I know that when one earns a Ph.D., then he or she is able to do many things, not just teach. But if the academy doesn't value education, then why would anyone else?
What is going on? Why would any institution simultaneously inflate and devalue its own product to such a huge extent? To introduce another metaphor, it's like I'm the owner of a car dealership that sells a new car for $100,000 and then simultaneously floods the market with 2-day-old used cars for $2,000. Smart people aren't going to spend $100,000.
Educational institutions are not very complex economic systems. If the money is not going to the investment in quality faculty and dedicated research, where is it going? Part of the answer is in this graph that Conrad Hackett, a Pew Research demographer, tweeted. Full-time nonfaculty professionals have increased 369% since the 70s.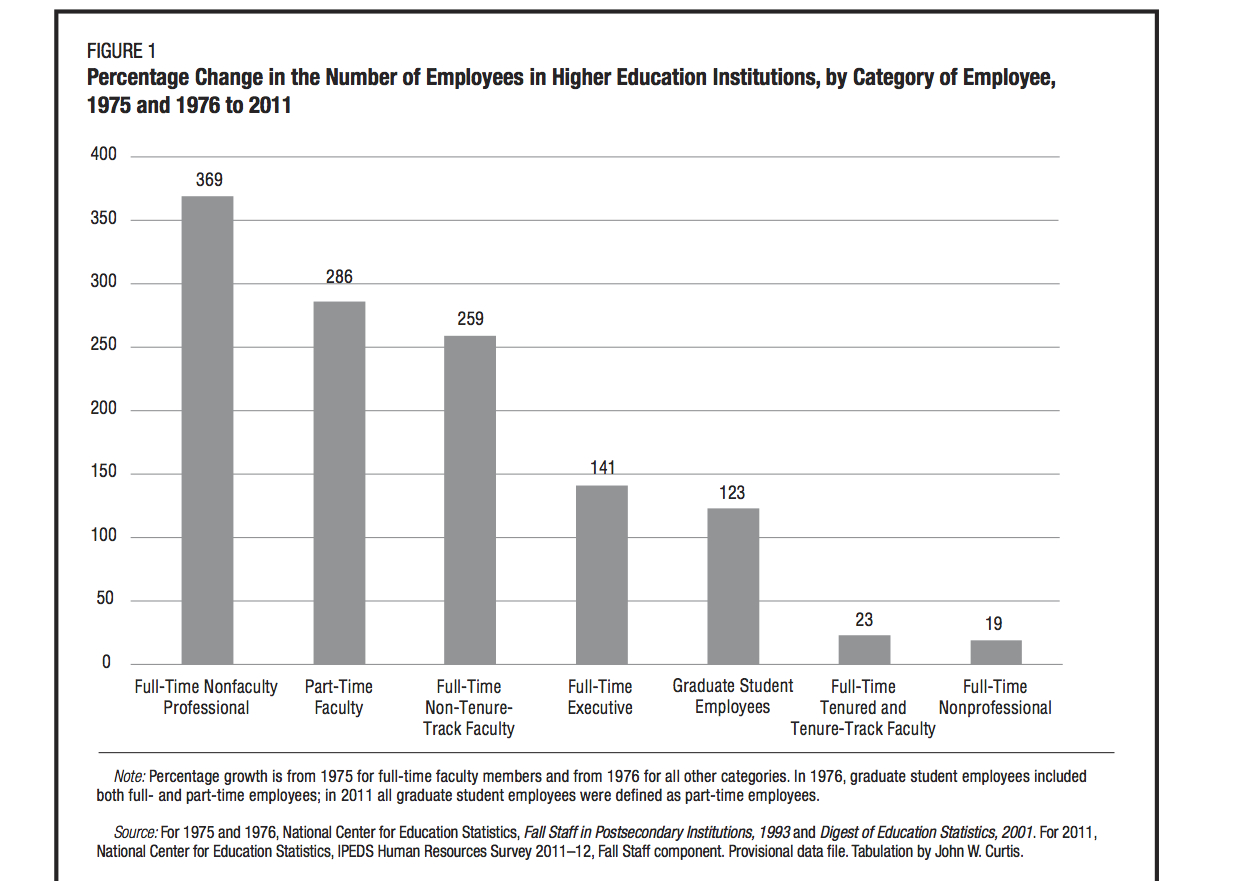 Sadly, seminaries are not immune to this state of affairs. Since I graduated, I have watched as institutions gut their tenured faculty while adding adjuncts. The course offerings dwindle while they add new vice presidents. Of course, with the exception of institutions which have kept their focus and their faculty, student enrollment has decreased. When I've asked about this curious turn of events (less faculty and more administration, even with less students), I have been told that it has something to do with presidential power—the bigger the cabinet, the more power he or she can wield. I don't know if this is true. The ridiculous thing is that in some seminaries, the VP to graduate ratio can be one to six.   
Academic institutions have some control over this crisis. But they will have to start valuing their own educations before they completely gut themselves.