A child's world, authentic and complex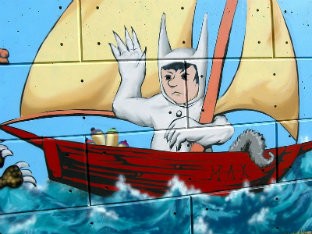 As I kid, I was scared of monsters. Specifically, the Star Trek Salt-Vampire and Hans Christian Anderson's Death, sitting on the Emperor's chest. (I slept on my side for years after reading "The Nightingale." Death couldn't get you, I reasoned, if you declined him a seat.)
Danger was largely imagined in my life, but it is not so for many children--children who know that people die, that they don't always have what they need, that they are vulnerable to the amorality of illness and the deep cruelties of others. Children who know themselves to be complex people in a world that treats them as simple and unimportant creatures.
I was never afraid of the monsters in Where the Wild Things Are, the best-known book by Maurice Sendak, who died on Tuesday. They were loving, even if their love was a bit menacing: We'll eat you up, we love you so. They immediately see the power in young Max and make him their king. They mourn when he leaves them.
I identified with Max. I fought with my parents; I had attitude. I knew that desire to leave for a place where I could be in charge. But I also recognized the sadness that strikes our wild protagonist. And Max the king of all wild things was lonely and wanted to be where someone loved him best of all. Now when I write I use the word "terrible" all the time, and I blame Sendak. (The wild things roared their terrible roars and gnashed their terrible teeth.)
Sendak was a secular Jew, but his stories often echo the gospel. Max goes looking for the one who loves him best--even when he's wild, even when he storms off--and she welcomes him with a still-hot supper. Luke's Gospel has a story like that, though I prefer wild things, with their terrible claws, to pigs.
Of course, Sendak wasn't trying to offer readers any sort of religious instruction. His work was noted for its distinct turn away from moralistic stories and model protagonists. As Nat Hentoff wrote in 1966, Sendak's young characters are sometimes "troubled and lonely." They "slip easily into and out of fantasy, and occasionally…are unruly and stubborn."
Sendak's approach brought criticism. Parents wondered if their children would be scared. Child psychologist Bruno Bettelheim was concerned about Max's punishment (being sent to bed with no supper). Library censors worried about the naked hero of In the Night Kitchen. (I'll cop to being grateful for the depiction of Mickey's penis; I can think of no more mundane or less threatening an introduction to the existence of male genitalia for my preschool daughter, except maybe observing her baby cousin getting his diaper changed.)
Christians have held an endless variety of views about the nature of childhood: they're marked by original sin; they're innocent until the age accountability; their wills need to be broken; they'll inherit the kingdom of God. On any given day, I might find a different one of these views most compelling.
But most days I am convinced by the insight of Sendak's first editor, Ursula Nordstrom, "Too many of us...are afraid of emotion. We keep forgetting that children are new and we are not." Children have long recognized themselves in Sendak's stories, perhaps because they're better than we are at identifying themselves and what they're feeling.
The gospel includes the call to live authentically before God, as redeemed sinners, as those longing to grow in love of God and neighbor. It's right there in the story of the Prodigal: he came to himself. Sendak's stories and life witness to the hope of an authentic life in the world. Authenticity often brings on a certain melancholy, a recognition of brokenness in the self and the world--something we're often not comfortable thinking about in terms of our innocent children. Yet naming this melancholy can be a grace-filled thing. It can also be a joyful thing, as in Sendak's stories about Really Rosie.
Last fall, Sendak did a wonderful, heart-rending interview with Terry Gross. He was clearly grieving the recent loss of some beloved friends, the less recent loss of his partner of 50 years and the general loneliness of old age. But it's a beautiful life, he said, continuing with a strikingly authentic response to the twilight of life: "I'm a happy old man...and I'll cry all the way to the grave."
Peace and thanks be with you, dear Mr. Sendak.