Ramy Youssef is young, Muslim, and American
The comedian's Hulu show has a rare trait: it takes religion seriously.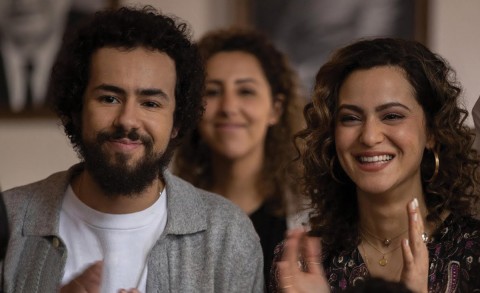 In the first episode of Ramy, the eponymous lead character is running late for Friday prayers at his mosque. He rushes through the mandatory ritual washing, splashing some water on his ratty white athletic socks instead of properly washing his feet. An older member of the mosque, Old Hajj, catches him and forces him to sit back down so he can wash Ramy's feet. At the end of the episode, after Ramy has had two disastrous sexual encounters—one with a Muslim woman, one with a non-Muslim woman—he reencounters Old Hajj outside his kebab store. "You know why you're so confused all the time?" Old Hajj asks. "You don't wash between your toes."
This encapsulates Ramy's struggle through the two seasons of the show (available on Hulu): How seriously will he let his religious practice transform his life, and will it bring him the peace he seeks? Created by and starring comedian Ramy Youssef as the semiautobiographical Ramy Hassan, the show is both a very funny exploration of millennial culture (online dating, uncertain aspirations, receding hopes for a stable economic future) and a very serious exploration of what it means to be a religious person in that culture.
Like many first-generation immigrant kids before him, Ramy and his sister, Dena (May Calamawy), move between two worlds: their majority-White New Jersey peers, with whom they share a love of all things pop culture and from whom they absorb an ethic of self-gratification, and their majority-Muslim community, with which they share expectations of piety and familial devotion. They are master code switchers, learning to hide the "un-American" aspects of their family life from their peers and the "non-Muslim" aspects of their peer life from their family.