The strange, humbling ritual of foot washing
It makes me uncomfortable. That's by design.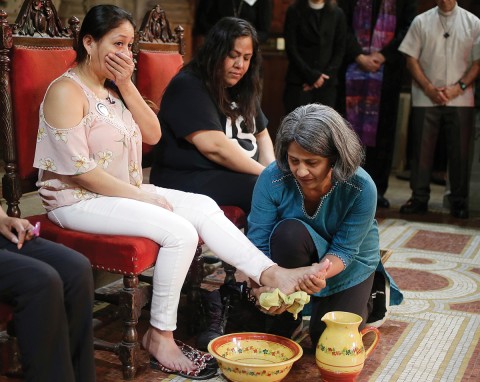 From the expression on the face of the priest at the Maundy Thursday service, I figured foot washing might be his least favorite activity of the church year. His face was wrinkled in what looked like disgust, as if he had just realized anew that this ritual involved actual feet.
When I approached the altar barefooted, as we had been instructed, he dabbed my feet lightly with a cloth before moving on to the next person in line. I returned to my seat and was surprised by the depth of my emotion. I felt dismayed, alienated, even distraught. I felt the priest's disgust, whether real or imagined, viscerally and personally. I vowed never to return to that church or to that priest.
I had been a stranger there and had wandered in on Maundy Thursday to connect with the traditions of Holy Week. Despite the fact that I had spent most of my life in nonliturgical churches, the idea of Lent and Holy Week had made an impression on me. That idea of a sacred time for reflection followed by a slow walk toward Easter had settled deep into me, and though I rarely went to church in those days I still sought church out during Holy Week, specifically looking for where I might get my feet washed or wash the feet of someone else.