Three crucial years: A thousand days of child nutrition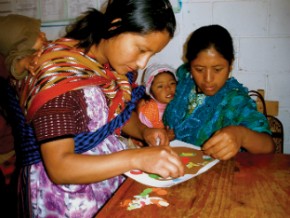 Apples have become a universal symbol of good health. The saying, "An apple a day keeps the doctor away," echoes around the world.
I heard it in various settings and in myriad languages as I traveled to India, Guatemala, Uganda, and Chicago reporting on the first 1,000 days in the lives of children around the world. Apples were front and center in the nutrition classes I observed. Apples were on posters, in books, and at the core of discussions. Apples were a prime example of the nutritious foods that pregnant and breast-feeding moms should be eating to get the essential vitamins and minerals they and their children need.
The moms of my narrative learned that proper nutrition during the first 1,000 days—from the beginning of pregnancy to the second birthday of the baby—can profoundly influence their child's lifelong ability to grow, learn, earn, and thrive and, in turn, determine a society's long-term health and prosperity. The moms listened with wide-eyed attention; those who could write took notes about how to balance diets with fruits and vegetables and protein from plant and animal sources. The teaching material—basically the same everywhere—featured colorful pictures of healthy foods, including bananas, oranges, sweet potatoes, eggs, milk, beans, peas, lettuce, meat, and apples. At every session, the moms applauded the information and thanked their teachers.