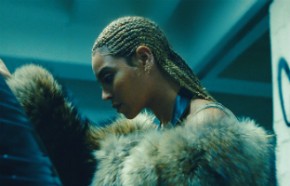 Beyoncé's "visual album" Lemon­ade is a spectacular piece of visual theology. The 66-minute film leads viewers through her new album, transforming songs that could have been interpreted in many other ways into a clear redemption story. Lemonade is allusive and elusive, resisting any effort to wrap it up neatly, but the story arcs through chapters beginning with "Intuition" and ending with "Resurrection." Beyoncé narrates a tale of betrayal leading through anger into healing and reconciliation. The film's words come largely from two sources: Beyoncé's song lyrics and poetry adapted for the project by poet Warsan Shire. Shire was named the first Young Poet Laureate of London and won Brunel University's African Poetry Prize.
In voice-over, Beyoncé reads Shire's poem: "Grandmother, the alchemist. / You spun gold out of this hard life." The film cuts to home movie footage of the 90th birthday party of Beyoncé's grandmother-in-law Hattie. Hattie speaks to her family and friends. "I've had my ups and downs," she says. "But I always find the inner strength to pull myself up. I was served lemons, but I made lemonade." The crowd claps and laughs. This scene is the warm heart of Lemonade. It puts the body of an elderly black woman at its center, acknowledging the suffering that the particulars of that embodied life have involved, and it celebrates, without ignoring that suffering, transformation.
While I've heard much commentary about the first part of the story, about the betrayal and anger, the weight of Lemonade is on redemption and reconciliation, words drawn verbatim from the film. Lemonade is striking in its use of Christian language. So striking, in fact, that I'm a bit stunned by the lack of attention to that language in public conversation. Almost the whole theological lexicon is at work here, reinscribed in creative, genre-defying ways.