Episode 31: environmental activist Bill McKibben, author of The Flag, the Cross and the Station Wagon
A conversation with Bill McKibben about climate change, the wealth gap, spiritual formation, and more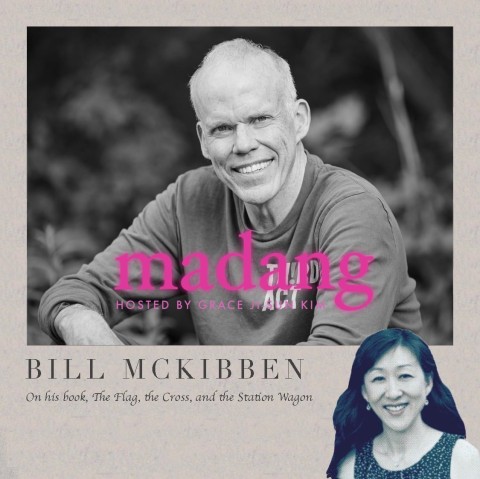 Welcome to Madang! 
Madang is the outdoor living room of the world. Here we invite you to sit and tune into unreserved, remarkable conversations with renowned authors, leaders, public figures, and scholars on religion, culture, and everything in between. 
This is the 31st episode of Madang. I engage in conversation with Bill McKibben about his book The Flag, the Cross, and the Station Wagon: A Graying American Looks Back at his Suburban Boyhood and Wonders What the Hell Happened. We discuss climate change, the wealth gap, racial justice, hyper-individualism, spiritual formation, 350.org., and so much more.
Bill McKibben is an educator, environmental activist, and author of more than a dozen books. He is a contributing writer to The New Yorker, and a founder of Third Act, which organizes people over the age of 60 to work on climate and racial justice. He founded the first global grassroots climate campaign, 350.org, and serves as the Schumann Distinguished Professor in Residence at Middlebury College in Vermont.
In 2014 he was awarded the Right Livelihood Prize, sometimes called the "alternative Nobel," in the Swedish Parliament. He also won the Gandhi Peace Award and has been granted 19 honorary degrees from colleges and universities. 
I am grateful to Homebrewed Christianity and GreenFaith for their sponsorship of this episode. Please check out their websites for more information about their work, their events, and to donate.
Please reach out to me if you would like to sponsor the next episode of Madang podcast. Or simply support me here: https://anchor.fm/grace-ji-sun-kim.