J. Peter Sartain to retire as archbishop of Seattle and Paul Etienne to step into role
Sartain, who is in poor health, had requested a coadjutor archbishop serving alongside him in a transition period. Pope Francis chose Etienne.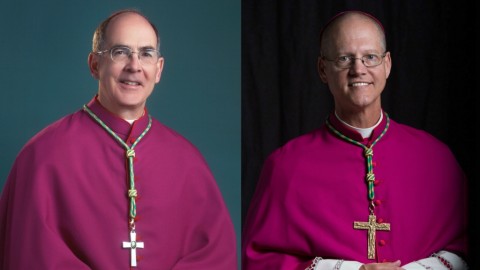 Pope Francis appointed Paul Etienne, 59, to be coadjutor archbishop of Seattle, serving alongside J. Peter Sartain, 66, until he retires.
Sartain wrote in a letter to the archdiocese on April 29 that he lives with chronic pain after several spinal surgeries for scoliosis in recent years.
"I began to realize that I no longer have the necessary strength and stamina to continue serving as Arch­bishop of this extraordinary and dynamic archdiocese," he wrote. "Arch­bishop Etienne and I will finalize the date later this year on which he will formally succeed me as Archbishop of Seattle."
Etienne has been archbishop of Anchorage, Alaska, since 2016 and prior to that was bishop of Cheyenne, Wyo­ming, beginning in 2009. He was a member of the committee for protecting children and youth for the US bishops, according to Northwest Catholic, the publication of the Seattle archdiocese.
"I promise the people of God of Seattle that I will continue to be transparent and responsible," he told Northwest Catholic. —Christian Century staff