Jesus Said to Her: "Give Me to Drink," by Rania Kuhn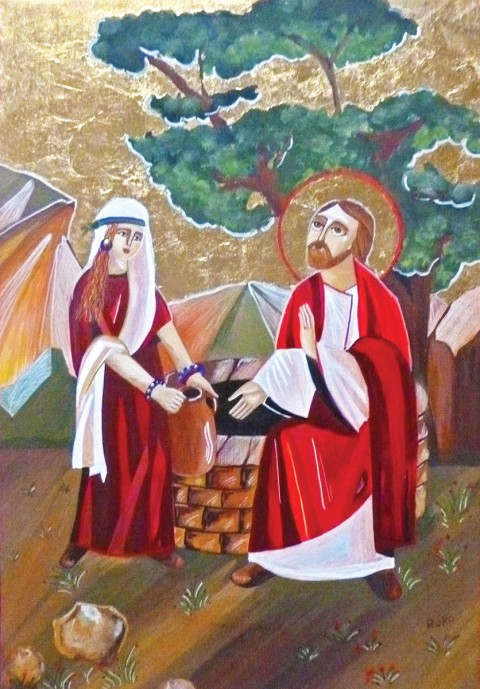 The serene saints of Egyptian Coptic Orthodox art are markedly different in face and form from the austere holy men and women of more familiar Byzantine images. Trained in art in her native Cairo, Rania Kuhn makes contemporary icons in the Coptic style in France, mindful of the artistic traditions of her ancient Middle Eastern faith community. The Coptic artist's figures have large eyes, open to find faith, small mouths to hold in hurtful words, small ears to hear no evil, and faces suffused with joy.
In this simply rendered icon of Christ's meeting with the Samaritan woman in the Gospel of John, braided hair and bracelets mark the pitcher-bearer at the well as the loose-living village outcast. Background details emphasize the central theme of quenching spiritual thirst. The lush greenery in the arid landscape suggests the tree planted by rivers of water, whose leaves never wither (Psalm 1:3). The lavish gold leaf represents the eternal life Christ promises the Samaritan woman.
The icon is one of several Kuhn has made to draw attention to the neglected women saints of Egypt and Europe. "Christ asked the Samaritan woman in a humble way to give him a drink, knowing she was disrespected and humiliated by everyone," says Kuhn. "He gave her living water and a new life. She became St. Photini, a great preacher of the gospel."