Thirsty in Detroit: Water shutoffs and baptismal witness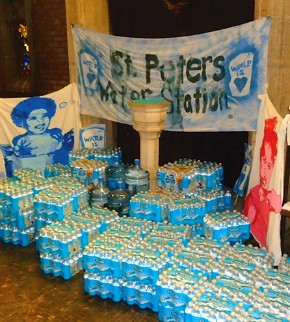 In the heart of the Great Lakes region, surrounded by 20 percent of the world's fresh water, St. Peter's Epis­copal Church of Detroit swims with activity. The parish hall provides office space for nonprofit organizations barely staying afloat. Five mornings a week, the local Catholic Worker House staffs a basement soup kitchen that serves hundreds of people drowning in unemployment, homelessness, abuse, and mental illness. On Sundays parishioners stream into a sanctuary with a peculiar setup: the baptismal font is surrounded by some 500 gallons of bottled water.
From the site of these sacred waters, where parishioners worship a God of overflowing grace, a deep theological conviction flows. The people of St. Peter's know that water is a gift that underlies all creation. It is the lifeblood of the region and the planet, circulating as river and rain, the very emblem of the commons. It holds together every living thing as one. In the liturgy, the water of the baptismal font beckons a diverse community of Detroiters to wade into freedom, immersed in the cleansing waters of conversion. But the bottled water around the font is also a sobering reminder of the principalities and powers that are drying up the city and reshaping it in their own image.
Three years ago the governor of Michigan appointed an emergency manager over Detroit, temporarily stripping powers from elected leaders. This manager claimed the authority to renegotiate or cancel union contracts, hire and fire government employees, and sell, lease, and privatize local assets. He steered the city through a bankruptcy process, massively downsizing pension and health-care obligations.