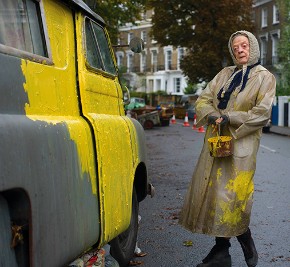 In Marilynne Robinson's novel Lila, a young woman reared by drifters in the Midwest and experiencing homelessness finds herself in the warm company of an old clergyman who later becomes her husband. Their initial interactions often occur over coffee, with the young woman posing theological questions of the sort one might hear from children—that is, questions that sharply arrive at the heart of matters obscured by the ignorance of adulthood.
Robinson writes after one of their meetings, "She didn't always remember yet to say thank you for the coffee, thank you for your time and your trouble. He walked her to the door and opened it for her, and she forgot to thank him for that. He looked tired, and as though he was sorry the conversation had ended."
A similar scene takes place in The Lady in the Van, the film adaption of British playwright Alan Bennett's memoir and play based on his experiences befriending a woman experiencing homelessness. She likewise never acknowledges Bennett's kindness to her that spans more than 15 years.