Names with faces: An ID card turns strangers into neighbors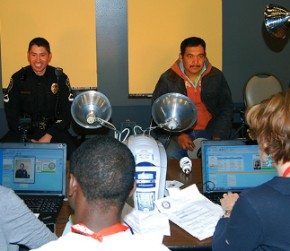 I'm sitting at the back of a church hall full of people, and the only people facing me are the ones at the podium up front and a handful of toddlers perched on laps. One little girl has pigtails sticking straight up from her head; she smiles at me when we make eye contact.
The people gathered this morning are mostly immigrants, many undocumented. They are here to get a photo ID card distributed by FaithAction International House, an organization that serves and advocates for immigrants in Greensboro, North Carolina, where I live. FaithAction ID cards are recognized by our police department and by other local organizations and businesses. They provide a much-needed means of identification for people who aren't able to access government-issued IDs.
I could get a FaithAction ID—everyone is eligible—but I don't need one. I have a long line of documents authenticating my identification, going back to the day I was born. I'm rarely concerned about proving who I am. That's not true for many people in this room, where the little girl has now escaped her mother's reach and is wandering in the aisle.