A preacher's anxiety: Between panic and pride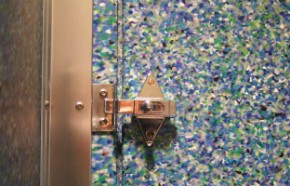 I cannot stand still. People are streaming into our college's chapel for worship—students, faculty, administrators, community members—and I am in the lobby, pacing. I greet people overenthusiastically. Every three minutes I count the pages of the sermon clutched in my hand, terrified that a page will go missing. Realizing how ridiculous I look, I slip off to the bathroom to hide in one of the stalls. It's obviously me in there, though. Anyone can tell by the black robe and the red tartan stole peaking beneath the door.
What do people think I'm doing in here? I'm in no condition to care. All I know is that the cool, metal walls feel good to me, enclosing me like a womb, as I practice the breathing technique a psychologist taught me to calm my nerves. Inhaling deeply, I hold my breath as long as I can. Exhale, inhale deeply and hold, exhale. I do this until my head starts to feel light and dizzy. I obsessively check that the little green light on my wireless microphone is off as I mutter the liturgical words I have been trying to memorize for the service. My heart is pumping wildly, my blood thudding between my ears.
Covering my face with my hands, I pray desperate prayers. I get frank with God: "What the hell were you thinking?" The accusation escapes the silence of my thoughts, startling the woman in the stall next to mine. "Why couldn't you have called me to some quiet cubicle somewhere?"