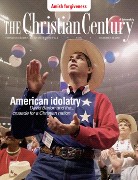 Volume 123, Issue #22
Voices
Now that the dust has settled from l'affaire Regensburg, it's a good time to think about what makes for genuine interfaith dialogue. One thing is clear: the reactions to Pope Benedict XVI's address, as reported by the media, allowed little scope for dialogue. People took sides with tedious predictability. Self-righteousness, bad manners and exploitation of irrational resentments were for too many the order of the day. With interfaith relations so bedeviled, one imagines the devil clapping his hands with glee over the opportunities to manipulate our fears and pervert our ideals.
Lectionary
I read this week's lectionary passages last summer in the Urubamba Valley in my native Peru, and in my native Spanish: "Pero Cristo ya vino, y ahora el es el Sumo sacerdote . . ." At first I resisted the Hebrews passage, as I prefer Jesus' concrete teachings to more abstract theological concepts. So, while leading a tour group across the Andes, I turned to Mark: "And man must love God with all his heart and with all his mind and with all his strength; and he must love his neighbor as he loves himself."
I remember seeing Helena, a widow, unfolding a $20 bill to put in the offering plate. I knew that her family was selling its possessions to pay the ransom for her only son, imprisoned by guerrillas.