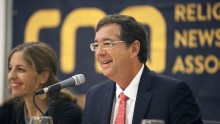 The National Council of Churches announced on Janu­ary 26 that Jim Winkler, its general secretary and president since 2013, is leaving his post.
Winkler told readers of the Protestant ecumenical organization's e-newsletter of his departure, writing in a "final column" that "I have completed two terms as president and general secretary and now move to the next chapter of my life."
He did not cite a reason for his departure. Winkler also did not re­spond to a request to comment on his move.