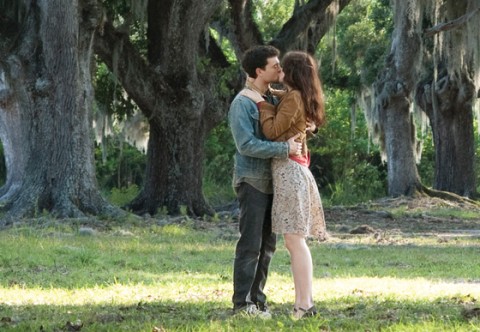 The film Beautiful Creatures, based on a young adult novel by Margaret Stohl and Kami Garcia, opened in theaters on Valentine's Day, staking its claim as the supernatural romance of the post-Twilight era. It's the story of a mortal boy, Ethan Wate (Alden Ehrenreich), and a girl who is a caster (or witch), Lena Duchannes (Alice Englert), whose love is doomed by an ancient curse that forbids pairings between mortals and casters. To complicate matters, Lena is approaching her 16th birthday, when her nascent powers will reach full bloom and be claimed for dark or light. Presumably, she has no choice in her "claiming." Her hidden "true nature"—in the book it's like a magic toss of the coin—will decide for her. Lena's own mother, Sarafine (Emma Thompson, committed to her role with almost delirious delight), "went dark" and is on a mission to take Lena with her.
Like most teenagers caught in a situation they cannot control, Lena sulks; she also writes broody poetry in a tattered journal. Falling for Ethan upends this passivity. It is Ethan's stubborn, human insistence that Lena can control her own destiny, or at least change her fate, that supplies the title to the film and the book. Lena's uncle says to Ethan: "Mortals. I envy you. You think you can change things. Stop the universe. Undo what was done long before you came along. You are such beautiful creatures."
As far as paranormal teenage romance goes, this plot is standard. What better way to give voice to the turmoil of adolescence than to paint it in terms of supernatural, life-or-death battles between good and evil? When you are 16, figuring out if young love is real can feel like a life or death matter.