Anger and longing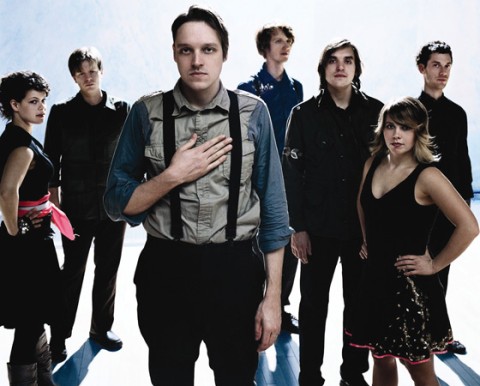 When Arcade Fire won a Gram­my for album of the year in Feb­ruary, lead singer Win But­ler came to the podium clinging to his identity as one of the band geeks. "We're gonna go play another song because we like music"—just in case anyone had forgotten about the music after watching an awards show in which Lady Gaga emerged from an egg, a short-skirted Katy Perry swung from the ceiling and Gwyneth Paltrow danced in stilettos on a piano. Album-of-the-year Grammys typically go to big-name stars from Nashville, New York, L.A. or London, not quirky, vintage-store-clothed kids from Montreal.
The band closed the Grammy show by performing "Ready to Start," from the winning album, The Suburbs. The song is an apparent ode to the naive artist and a promise not to sell out: "If the businessmen drink my blood, like the kids in art school said they would, then I guess I'll just begin again. You say, can we still be friends?" Characteristic of the band's lyrics, the song casts suspicion on social power, including the band's: "I would rather be wrong / Than live in the shadows of your song."
Arcade Fire is a Canadian group signed to the indie label Merge Records. It has seven core members and often more on stage, and they gang up on vocals and trade instruments that include viola, cello, upright bass, xylophone, glockenspiel, French horn, accordion, harp and mandolin—a mix that makes them impossible to pigeonhole.