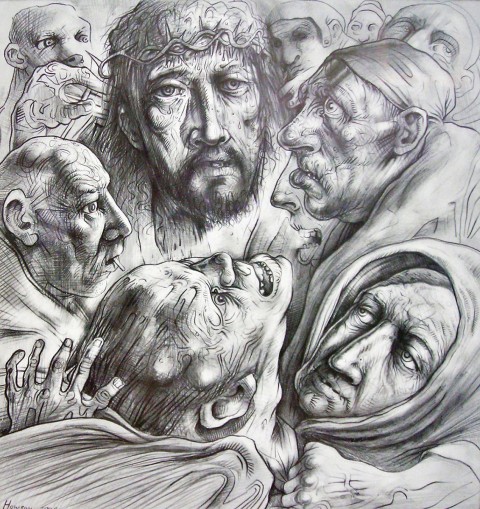 Peter Howson has been described as a modern-day Hieronymus Bosch for his detailed and disquieting depictions of the Gospel Passion narratives, like this graphite drawing on gessoed wood of the mocking of Christ. The Scotland-based artist first attracted notice in the 1980s in a group of trend-bucking figurative artists called the New Glasgow Boys, who exposed the seamy underside of modern Britain in mural-sized canvases of football rowdies running wild in the streets and expressionistic portraits of people on the social margins.
When problems with substance abuse and a traumatic stint as an official war artist during the Balkan conflict brought Howson to a breakdown in 2000, he experienced a religious conversion at a rehabilitation clinic that reshaped his life and art making. The figure of Christ appeared as a focal point of his once-chaotic visions of contemporary society, giving a recognizable face to anonymous victims of violence and the hope of redemption.
In this Christocentric composition, Jesus as the thorn-crowned Man of Sorrows stares out into the picture space and beyond with an unflinching and compassionate gaze at those who mock him as an imposter. He is the unmoving middle of a visual vortex of caricatured humanity at its worst, from jutting-jawed judgmental types and smirking cynics to hate-ravaged hysterics and the catatonically self-absorbed. In this widening gyre of human rage, doubt, despair, and indifference, the center of divine love holds.