A birthday present in the manger scene
We found a small, wrapped box next to Jesus. Should we open it?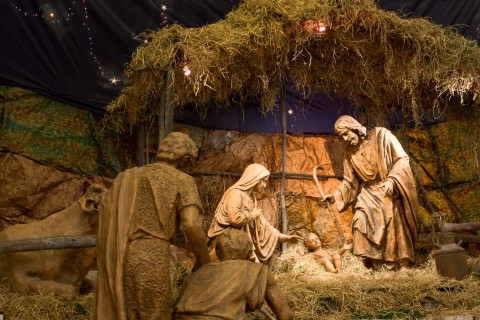 In the front yard of the Kansas City church I served, we used to set up a huge life-size crèche every December. The plywood-and-timber structure was heavy and cumbersome, and the crèche always gave us fits. If there wasn't a spotty electrical connection involving the light over the manger, there were external forces at play. One year a pickup truck veered off the road and took out two of the Magi. We picked up the fiberglass shards the next morning, buried inside the flattened velvet robes and matted crowns of the crash victims. Mary and Joseph were out frankincense and myrrh that Christmas.
The worst problem we faced had to do with the disappearance of Jesus. Someone absconded with the infant five of my eight years at that church. It was like a popular sport. Thieves never took an interest in the crib or hay. All they wanted was Jesus. They never even left a ransom note. I could only hope that Jesus ended up in the hands of someone who needed his presence more urgently than our aging, battleship gray crèche.
One morning in December 1992, as I was making bed-check rounds to see if Jesus was still asleep on the hay—he was, though with eyes open—I noticed a small gift beside him. The handwritten label taped to the wrapping paper read, "Happy Brithday Jesus." Birthday was misspelled. Was this a booby trap? A makeshift bomb? A candid-camera prank? Or a real gift? After deliberating on whether removing it from the manger constituted a sacrilege, I brought the package in from the cold. An office colleague and I faced the next moral quandary: Should we unwrap this present? Curiosity decided for us.