The Dominican friars whose library is transforming Islamic studies
How a rare books collection in Cairo expanded into a center for scholarship and interfaith conversation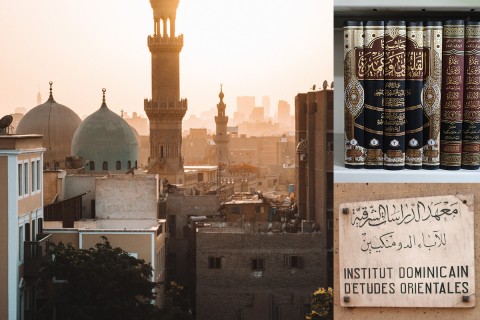 Almost a hundred years ago, Antonin Jaussen, a Dominican friar, was sent to Cairo to set up a small priory. The plan was for him to establish a center of study in Egyptian archaeology. But Jaussen persuaded his superiors that the brothers who came to Egypt should instead focus primarily on Islamic studies. In 1953 the Dominican Institute for Oriental Studies (known by its French acronym, IDÉO) was formally established. It remains a community of Dominican friars.
Today that little corner of Cairo, a garden in the midst of a bustling city, has become one of the world's foremost sites for Islamic studies—and an important catalyst for Muslim-Christian dialogue. Its aim is to track down, acquire, and catalog every available source, published or in manuscript, related to Islamic theology and philosophy in its first thousand years.
In January 2020, my wife and I set out on foot through central Cairo to visit IDÉO. With us were two friends: Naji Umran, a Canadian of Syrian origin who is ordained in the Christian Reformed Church in North America; and Hany al-Halawany, a Muslim lawyer and Naji's Egyptian partner in promoting interfaith scripture study, a project supported by Resonate Global Mission in the United States. We had arranged to meet two of the brothers, John Gabriel, from Upper Egypt, and Jean Druel, from France, then director of the institute.