The spirituality of slow fashion
I have found joy reusing, recycling, and repairing clothing.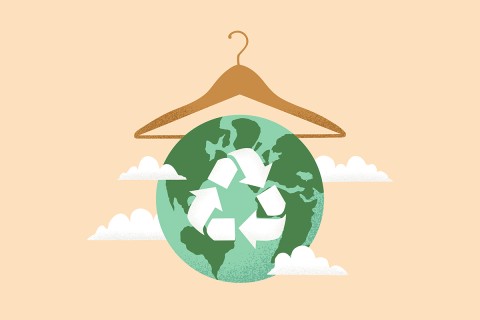 It used to take less than five minutes for me to acquire a new shirt. A quick detour through the clearance section at Target (when I was supposed to be shopping for peanut butter and deodorant) and I could scoop up a fall flannel for $5.98. Or with a few quick clicks through the J.Crew 40 percent–off sale, a floral-print camisole was in my virtual cart and set to be shipped the next day.
That's not the case anymore. Three years ago, I put the brakes on my fast-fashion consumption. Instead, I've learned to slow down and find joy in re-styling the clothes that are already in my closet. Or reach out and connect with a friend and swap a few seasonal wardrobe items. Or embrace the thrill of the hunt with a trip to the local thrift store for vintage jeans and a pullover sweater.
This is the practice of slow fashion: it's about intentionally reusing, recycling, and repairing clothing. Fast-fashion culture instead prioritizes trends that change quickly and wardrobes that can be turned over every season. This buy/wear/dispose model might have made fashion more accessible beyond the runways of Paris and the shops of Fifth Avenue, but it's also consuming energy, water, and raw materials at a rapid pace.