A tent for outdoor worship
The stark liturgical space that Harvard Episcopal chaplain Rita Powell envisioned before COVID is now a reality.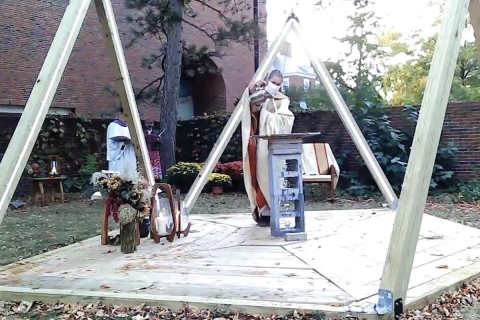 Such is the strangeness of these days that recently I settled down in front of my computer to watch a liturgy happening only a few blocks away. My colleague Rita Powell, our Episcopal campus chaplain, was consecrating a sacred tent she had already commissioned when COVID-19 arrived. Rita knew we were in the wilderness long before the pandemic shut down our churches and our classrooms. Even before we were driven out of doors, she saw that we needed new sacred spaces to "honor the God who meets us in the wilderness of our world."
The liturgy began in the park across the street from the chaplaincy. Benjamin Bromberg Gaber, a recent design school graduate and the architect of the tent, read from Exodus—in Hebrew and then English—about the tent of meeting Moses pitches outside the camp so that he can speak to God "face to face, as one speaks to a friend" (33:11). In her homily, Rita reflected on what it means to dwell in the wilderness with God. The wilderness is the place of our undoing, she said—the undoing of patterns, including religious patterns, that have oppressed us and others—and also a place of liberation, where new ways of being and belonging might come into view. Then two singers sang medieval chants composed for the blessing of cathedrals. The moment felt both ancient and new.
The small group turned and made its socially distanced way toward the chaplaincy, waiting in their masks and vestments for the light to change. After a prayer from the dean of the cathedral in Boston, they entered the back garden through the gate, one by one. The camera came in behind them, and suddenly the sacred tent came into view on my screen.