First the days, then the twinkle, then the wings, and then the quiet, by R. Sawan White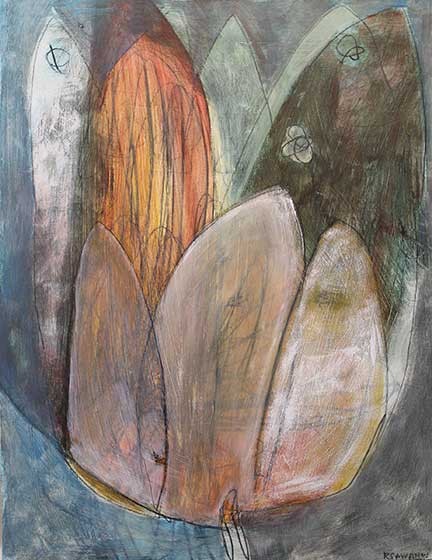 There is a gentle poetry in R. Sawan White's work. Her paintings are subtle palimpsests of wax and oil on board, assiduously built up in translucent layers, like foggy breaths on a window smudged with fingerprints. Indeed, the works encourage the viewer to draw exceptionally close to examine them, holding out the promise that their abstract streaks, scratches, and scribbles might belong to some secret script. In the end, their refusal disclose a single, decipherable message—whether pictorially or literally—is their greatest strength. They conjure a mood, a sense of innocent wonderment, which betokens creation and is reminiscent of the poet Robert Lax's meditations in Circus Days and Nights:
Slowly, slowly, His hand upon the morning's lyre
makes a music in their sleeping.
And they turn, and turning wonder
eyes awake to light of morning.
They rise, dismounting from their beds,
they rise and hear the light airs playing
songs of praise unto the Lord.