Doreen R. Martinez and Ronald J. Martinez's Santa Maria de la Paz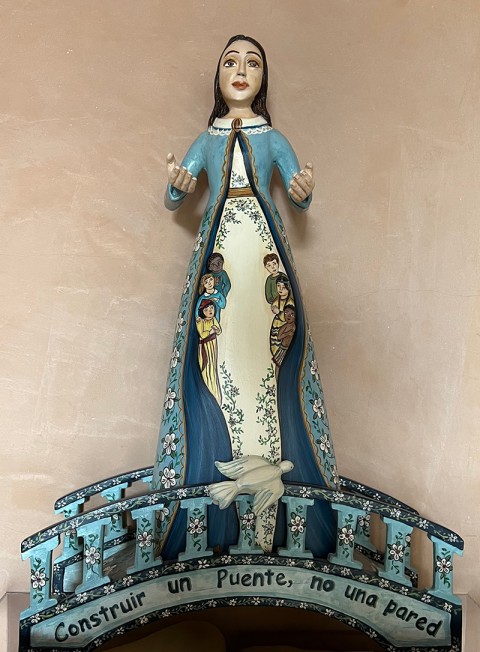 At the United Church of Santa Fe, a small bulto of Mary sits on a stand near the entrance to the sanctuary. The carved wooden statue is by self-taught New Mexico artists Doreen and Ronald Martinez, who work in the Spanish arts tradition. Their bulto is a centerpiece work in a collection of art from local Pueblo and tribal communities.
The art informs this high desert faith community's self-understanding as ecumenical and regional, as a place that embraces a visual spiritual understanding of the land that predates the presence of Anglo-American settlers. The Native, Mexican, and Spanish communities in this region have lived a desert spirituality for centuries—a heritage that is important to United Church and its longtime pastor, Talitha Arnold. They seek to honor the unique sacred traditions of people who have long lived, prayed, and harvested on this land.
The bulto stands on a small bridge that bears the words, Construir un Puente, no una Pared: "Build a bridge, not a wall." It's a message of peace and protection—hidden within Mary's cloak are children of different ethnic origins, gathered and protected. According to Arnold, church members sometimes call the bulto Our Lady of the Bridge.
It's a message that speaks profoundly to this sanctuary church in a sanctuary city in a border state. The spiritual traditions of the local desert support a broader message of ecumenism, bridging divides, safety, and welcome.