Aftershock: A church on the front lines in Ferguson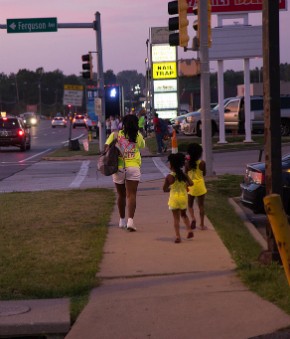 The events that focused na­tional attention on Ferguson, Missouri, a year ago were disruptive and at times confusing for St. Peter's United Church of Christ. Our church, which is about 20 percent African American, is located about one mile away from where an unarmed black man, Michael Brown, was shot to death August 9, 2014, by police officer Darren Wilson. Our building ­didn't suffer any damage, but some of the businesses damaged during three nights of violence were only two blocks north of the church.
St. Peter's has a long tradition of service. It houses a free medical clinic and opens its gymnasium to the neighborhood each Wednesday afternoon during the school year. It provides space for adult education classes, collects food for a local pantry, and addresses issues of parenting and child abuse. It hosts musical concerts and sponsors a small theater group, and these performances are given free to the community. We are in the process of constructing a community center at a cost of $850,000 to house these ministries and other nonprofit groups.
The congregation's commitment to mission was challenged by the demonstrations, however, and it had to recognize diverse opinions among members on how to respond. Some members became so agitated and demoralized by the protests and violence that they sought counseling, with symptoms similar to those of traumatic stress. One leader was so upset by events that he resigned his church position so as to be free to voice his personal opinions.