Dying wishes: Advance care planning in La Crosse, Wisconsin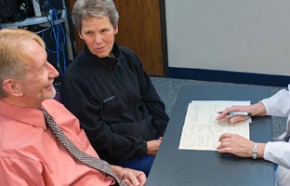 When Jean and Paul Pear­son married in 1991 they made a commitment to treat each of the six children in their blended family as their own. "There are no stepchildren," says Jean. In their will the Pearsons listed all the children as equals. Since they were already thinking about end-of-life choices, they also completed a living will.
Twenty-one years later, Paul went to the emergency room for breathing problems. When he and Jean looked at the x-rays they could see that he had lung cancer. Paul received chemotherapy but knew early on that he was not going to recover. "The doctor said he could give us one or the other, quantity or quality," says Jean. "We opted for quality of life."
Paul was treated at Gundersen Health System in La Crosse, Wisconsin, where a remarkable 96 percent of patients have made a plan for their deaths. The advance care planning program at GHS, which is called Respecting Choices, provides training and certification to advance care planning facilitators who have conversations with patients and their families about their values and beliefs and help them document their choices for future medical care.