Beth Felker Jones's theological film favorites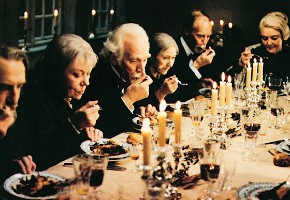 On the second anniversary of our media column, we asked several of our writers to reflect on their favorite theological films.
I've never seen a film that translates grace to the screen like Babette's Feast (directed by Gabriel Axel, 1987). As one of the rare films that focuses on the lined and battered faces of real people, Babette's Feast challenges viewers to love real life. The film embraces God's love for the embodied, the ordinary and the value of the extraordinary, and a love that wastes nothing. I cry when I see Babette pinching pennies so that the old people's soup will taste good, then pouring herself out for one delicious, improbable foretaste of the feast to come.
The Mission (Roland Joffé, 1986), like Babette's Feast, lovingly portrays people who don't usually make it onto the silver screen. The film layers sin and holiness together. It shows the church at its worst: violent, predatory, greedy, and ethnocentric. And it shows the church at its best: a community that values every human life, that loves without counting cost, and from which beautiful voices are raised in praise. The film's music is another foretaste of heaven.