Never forget, never tell: An Armenian Americans dilemma of memory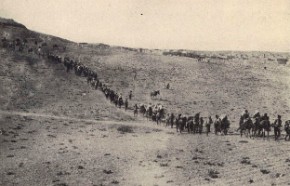 "I want to go home," declared the tattoo on the German shopkeeper's forearm, "but I haven't found it yet." I had spent the week in Berlin with my husband, and now we were scheduled to fly on to Istanbul. I had never been to Turkey, yet that message of longing and search on a stranger's arm could have been written on my own.
My maternal grandfather, Puzant Tarpinian, was an Armenian who grew up in the Karataş neighborhood of Smyrna (now called Izmir), an Aegean seaport city on the western shore of Anatolia, Turkey. After immigrating to the United States in 1912 with his older brother Caspar, Puzant settled in Chicago. For years he worked as a comptroller for Blum's Vogue, a fashionable women's clothier on Michigan Avenue. He died at age 68 in 1958. I was born six years later. At age 49, never having met my granddad, I found myself missing him, missing all the dead Tarpinians so deeply that I set off on a pilgrimage to Turkey.
In Berlin I had visited Holocaust memorials and other monumental symbols of national repentance. I knew I would find no atoning monuments to ethnic and religious minorities exterminated in Turkey. In 1915, zealous nationalism and militarism—embraced by the so-called Young Turks, or Committee of Union and Progress—led to the systematic deportation and slaughter of 1 million or more Christian Armenians of Turkey, as well as other ethnic and non-Muslim minorities, including Greeks and Kurds. Secular and religious American newspapers such as the New York Times and Missionary Review of the World reported the war crimes. In the United States, Puzant and Caspar Tarpinian, college-educated émigrés fluent in English, surely learned of the grave threats to their home community, although Smyrna's Armenian population remained remarkably intact as late as 1921. That was that year that Caspar left Puzant in Chicago and went back to rejoin his family in Smyrna.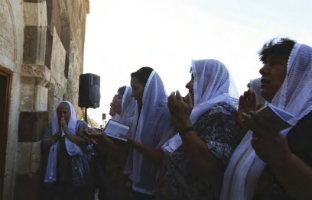 HISTORIC MASS: Armenian women pray outside the 1,000-year-old church of Surp Khach, or Holy Cross, on Akdamar Island in Turkey. The church is one of the most precious remnants of Armenian culture. In 2012 several hundred Armenian Christians celebrated a mass there for the first time since the expulsion of the Armenian people in the World War I era. AP photo/Burhan Ozbilici.