KHAT CULTURE: Above, youth leader George Kimathi gives a bunch of khat or miraa leaves to elder Joseph Muturi of the East African Pentecostal Chruch. Below, Stephen Mutuiri picks miraa leaves at his mother's farm in Antubetwe, Kenya. PHOTOS © Kiambati Mwangi
A close look at the right corner of Ikenda's mouth reveals a green coloration. Were it not for the fact that he had been introduced to me as a church elder and that we were now seated in the office of the East African Pentecostal Church, I would have seen him as an ordinary Kenyan user of khat.
Putting his right hand into the inner left pocket of his leather jacket, Ikenda fetched a small bunch of khat leaves, called miraa in Kenya, and carefully placed it on the table, as if welcoming all to join him in the feast. A bottle of canned soda stood on the table, an aid in chewing the stimulant. Picking one tip at a time, he plucked off the lower leaves and chewed the soft parts, continually adding khat to his already bulging mouth.
Khat is a plant native to East Africa which is said to cause a sense of excitement and euphoria. In 1980, the World Health Organization classified it as a mildly addictive drug.
"This plant was divinely placed in our land by God in the same way that coffee, tea, and fish were placed in the places they are to be found," said pastor Charles Meme, the head of this branch of the EAPC denomination. His comment elicited nods from the gathered elders.
The other leaders at the church office in the town of Antubetwe in Meru County on this hot Saturday afternoon included Samuel Kaungania, an elder; Charles Mung'athai, who introduced himself as the head of 11 churches; and Samuel Kinyua of the Fasting Evangelism Centre in Antubetwe.
"It pains us to see people out there talking out of ignorance," Ikenda said. "As you can see, we don't hide our miraa. It is our way of life here, part of our traditions."
Ikenda was responding to attempts by the National Authority for the Campaign against Alcohol and Drug Abuse to clamp down on the use of khat, which NACADA has called a narcotic drug. The agency, established by the Kenyan parliament in 2012 to "provide leadership on policy development, education, regulation" and research related to substance abuse in Kenya, also aids county authorities in controlling drug use. NACADA stated that studies have shown that prolonged use of miraa leads to reduced sex drive and even impotence, permanent teeth discoloration, nightmares, and ulcers. The liver is also adversely affected, according to NACADA.
Miraa farmers dispute these findings, saying NACADA does not have the capacity to conduct independent research. The farmers have gone to court to try to reverse NACADA's stance. Their efforts may have had some effect: John Mututho, NACADA's newly appointed chair, recently told a parliamentary committee that miraa is not a drug.
The fact that many miraa users also smoke tobacco and drink alcohol, while some combine it with hard drugs, complicates efforts to identify its actual effects. Farmers say that ills attributable to other substances are being blamed on miraa. According to Ikenda, "the recent debate in the media is what is brainwashing people to take a stand against miraa."
The miraa plant, the elders said, is the only one that could do well under the area's tough climatic conditions. It grows naturally and does not require any supplements. "It grows like any other tree," Meme said. "It is a gift from God, having known the nature of this place."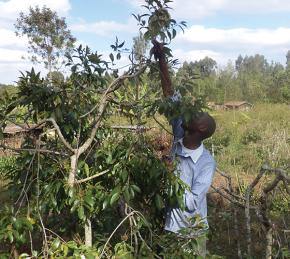 One pastor of the EAPC was against use of the stimulant when he first set foot in the area, the leaders recounted, but with time he came to "understand our position," Ikenda said. "Today, he appreciates the plant as good and useful. He even farms it."
The elders were incensed that NACADA has called miraa a drug. "I am 45 years old today, a father of five, and I am still strong and healthy," Ikenda said. He started using miraa as a third-grade pupil and has not had any complications as a result, he said.
"My mother is 100 years old and is still strong and using it," he added. "It is painful to hear people, more so church leaders, speaking about something they have never used."
I wondered how the elders would distinguish miraa from other substances, such as marijuana, which they call bhang. To them, the difference was clear. "We can never confuse good for evil," Kaungania said. "Miraa is good and valuable, while drugs are destructive and harmful, and we are against their use."
Meme interjected: "I was once an addict of bhang and other hard drugs before I received Christ. While one can chew miraa today and stay comfortable for days thereafter without using it, drugs are addictive. I could not go for long without bhang when I was an addict. Neither can cigarette smokers go for a long period without smoking."
Bhang and other hard drugs, they said, make users appear drunk, helpless and prematurely aged. "Our people here are not like that," Meme said. "We have many beautiful ladies. Our young men are also healthy, strong, and able, yet they use miraa."
The elders agreed and pointed out the benefits of miraa to the church.
"Miraa is our cash crop here, and we take it seriously," Stephen Mutuiri, our guide, said. Indeed, a tour of the town revealed unusual business activity for such a small town. The residents were all busy buying, selling, haggling over, and chewing miraa. Exports of the crop earned the country an estimated $231.7 million over the past five years.
Church projects in the area are funded with proceeds from the sale of miraa. Some churches have their own miraa crop and use the proceeds to educate orphans. Meru churches are able to fund charitable work thanks to the miraa business, the leaders said.
"Almost all our church members grow miraa, which traders buy and resell," Ikenda said. "We get capital to build churches, buy instruments, and pay for the upkeep of pastors."
There were hardly any beggars in the community since sale of the plant had improved the local economy. "Most of our members work on their own farms," he said. "Others are em­ployed to harvest and package for those with bigger farms. Although we don't have tap water in this region, we are able to buy it from neighboring counties with the proceeds earned."
If people in the area were denied the opportunity to grow miraa, the elders said, church projects would fail and children would be forced to drop out of school.
"How shall we buy food?" Meme said. "Even God will be against us if we tell the people to stop farming miraa. This plant was not placed in Meru by mistake."
Socially, miraa is used by the community in forging reconciliation and strengthening relationships. "If a youth in this church does something that hurts me, he can show repentance by just handing me a small bunch," Meme said. "A youth member may also present me with a small bunch as a sign of respect. This will consequently strengthen our relationship."
Miraa was featured in a love feast of sorts after Sunday service, with youth presenting elders with miraa and everyone chewing and sharing freely. When Pastor Meme invited the congregation to a discussion on miraa, many of the congregants said they wanted to help the world understand that they were proud to be associated with the plant. They expressed anger at efforts to discourage its use. Francis Kinyua, a church secretary and a teacher, saw opposition to miraa as a form of questioning people's faith.
Youth members, especially those in boarding schools, spoke of the stigma they faced from their peers. One young man nearly broke down in tears as he spoke. "When I hear people saying miraa will be banned in Kenya, I feel like my academic life is being cut short," he said.
Another student addressed opponents. "To those saying miraa is a narcotic and yet they use coffee, they should know that coffee contains caffeine that can harm you, too!" he said.
Women in the congregation stood to defend their husbands, saying they had not failed in their obligations.
"My husband has used miraa ever since I knew him," said Doureen Kawira, a mother of three. "He loves us, and puts our family needs before all else."
Meme took the opportunity to caution the church against combining the stimulant with alcohol. "Miraa can never go together with alcohol, bhang, or other drugs," he told them. "Those harming their body by using such drugs must desist from blaming it on miraa."
I later met another defender of khat, Mary Nkatha, a committed Catholic who worships at St. Mary's Catholic Parish in Antubetwe. A single parent, Nkatha is a mother of four: three boys and a girl. She holds several leadership positions with women's self-help groups. She said miraa is good for women and has no side effects. She focused on miraa's economic role, enthusiastically telling me how the plant has helped in providing for her family: "I have relied on miraa for every single basic need. I sell it and get money to offer to church, buy food, clothes, and pay for my children's school fees."
"We present miraa in church sometimes as the first fruit of our harvest, or as an offering of our farm produce, as tithes and even as an ordinary offering," she said. "Whenever we have a fund-raising in church, we carry it with us. It is sold to willing buyers, and the proceeds are used for the work of God." Those with no money for the offertory are permitted to carry a bunch of miraa with them, which is then sold to members who use it or retained for the priest's use.
Given how integral this plant is to the way of life in this small town and other areas of Meru County, any discrediting of miraa is taken as an attack against the community itself. Not willing to be seen as lukewarm in protecting the community's interests, politicians from the region are actively campaigning on national radio and television to protect the farmers' livelihood.
Unlike the Christian leaders in Meru, religious leaders in other parts of Kenya back the campaign against miraa. Officials from the National Muslim Leaders Forum (NAMLEF), the Supreme Council of Kenya Muslims (Supkem) and the imams of 26 mosques have condemned the plant and have urged the Kenyan government to ban it, calling it a hazardous drug. (Nevertheless, miraa is consumed heavily by members of the predominantly Muslim Somali community.) Many Christians outside the growing areas do not hesitate to call miraa a drug and see its use as sinful.
But Meme's emphatic words sum up the view of the Christians in Meru: "To despise miraa is to despise the church and all the Christians in Meru."
Read the sidebar article on effects of chewing khat.