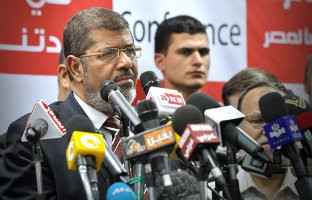 President Mohamed Morsi's decision to reinstate the dissolved parliament has set off a firestorm of debate in Egypt. Is Morsi fighting for full democracy against a military regime? Or is he trying to institute a full Islamist takeover of government? Christians worry about the second possibility.
"There are attempts to take control of all state institutions," said Karam Ghobrial, an activist with the Coalition of Egypt's Copts, "and the biggest proof is Morsi's decision to bring back parliament." Ghobrial is one of many lawyers who filed an injunction against the president's ruling. Ghobrial's comments reveal a deep-seated Coptic distrust of Islamists. "There should be international attention from the United Nations to protect minorities," he said, "because Morsi broke his oath to respect and uphold the law."
Morsi's presidency did not start off this way. "We as Egyptians, Muslims and Christians," he proclaimed in his victory speech, "are all equal in rights, and we all have duties towards this homeland." He resigned from the Muslim Brotherhood, pledged to appoint a Coptic vice-president in his administration, and conducted a series of meetings with Christian leaders.