No need for church: Ministry with young adults in flux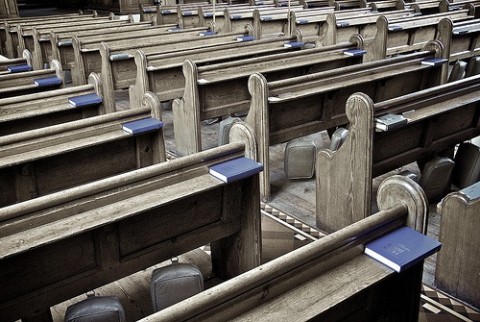 Within the metro area of Fargo, North Dakota, and Moorhead, Minnesota, are scores of vital mainline churches. So why are 45,000 young adults—close to a quarter of the entire population—not connected to any of them?
In economic terms, it's not a supply-side issue; there's simply no demand for church from the young adults. In my new call as developer of young adult ministry in the Fargo-Moorhead area, I've been meeting and talking with young adults in area pubs and coffee shops. After only a dozen conversations, it became clear that what many mainline churches here offer—the worship, the programs, the intergenerational community—fails to connect with many in their twenties and thirties. Perhaps this was predictable, but for me, a 28-year-old pastor called to work with other young adults, it's been a troubling discovery.
My faith was nourished by a historic downtown Presbyterian congregation and then pushed, prodded and deepened at a church-related college. I sensed a call to ordained ministry and attended seminary. But the more I talked with young unchurched adults, the more disconnected I felt from church as I'd known it all my life. After having ministered to me so well, the same church seems ill equipped to be church for the young people I'm meeting. In my confusion, I've decided to resort to an old pastors' trick: I listen a lot and talk very little.