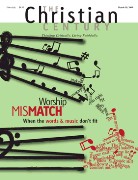 Volume 126, Issue #5
Voices
Dear Father Anselm: It's been 900 years since that dawn of April 21, Wednesday in Holy Week, when you fell asleep in Christ. You may be surprised to learn of the fuss that is being made about you, with major conferences in England, Italy and New England, and glasses raised wherever Christian philosophy is prized.
Lectionary
Look, people are sinking under the waters. Here in this wilderness, people are perishing.
In the synoptic accounts of the cleansing of the temple, Jesus is being provocative. In John, he is provoked.