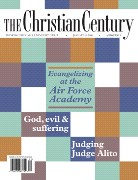 Volume 123, Issue #1
Voices
Does life have any direction or purpose, any telos? A significant part of the popularity of Rick Warren's "purpose-driven" books is his strong conviction that God provides direction and purpose for each of our lives, as well as for the church and local congregations. Many of us are uncomfortable with Warren's specific formulation of God's purpose or plan for people. But he is clearly on to something. His argument responds to the deep yearnings in American culture for some sense of direction—for a guiding light.
Lectionary
As Mark begins, it might seem a little early for Jesus to be commended as one with whom God is well pleased.
From where does Nathanael's confession, his insight, come?