Sunday's Coming Premium is the Christian Century's paid-subscription email newsletter—with even more highlights from the Century's collection of writing related to the week's lectionary texts.
What makes it premium?
Subscribe for $4.95 per month and you'll receive an email early Monday morning with the usual Sunday's Coming fare PLUS up to two dozen additional excerpts and links from the Century's library, organized by the week's texts and themes.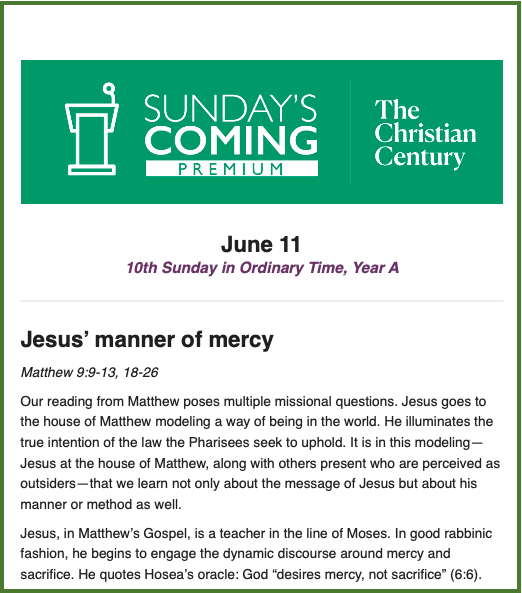 For preachers and teachers
Every issue will include articles related to each of the next Sunday's readings, as well as articles on themes that arise from the lectionary and the church calendar. Sunday's Coming Premium is a hand-curated resource of the best of the Century's rich archives, organized by lectionary Sunday for busy preachers, teachers, worship planners, small group leaders, students, and other learners.
How does it work?
Subscriptions are $4.95 per month; once you sign up, you'll be billed every month until you decide to cancel, which you can do at anytime. Your first issue will arrive on the Monday following your purchase.
Click the button below to sign up. Note that you will need to create a username and password—even if you already have a login for the website. The Sunday's Coming Premium login is separate, used only for future changes to your email subscription.