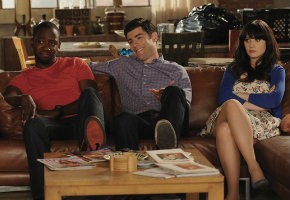 My husband and I laugh at ourselves for laughing so much at the Fox television show New Girl, now in its second season. Our laughs are partially rooted in the fact that we fit loosely into the age cohort of the characters (well, close enough). The show stars Zooey Deschanel as Jess, the new roommate in an apartment with three guys. Fox's website describes the show as "a modern look at friendship and romance" that focuses on the "exploits of a smart, spirited and single young woman, her three male roommates and her beautiful best friend." The humorous dynamics of a gender-imbalanced living situation are not a new premise for a sitcom, but the show does feel of the moment.
Among Jess and her roommates Nick, Winston and Schmidt, only Schmidt holds a conventional job with benefits, and he's portrayed as a social oddity. Nick is a law school dropout turned bartender. Winston flounders between being a nanny and assisting a dysfunctional radio personality. Jess has been laid off from her teaching job and is at loose ends. All the roommates are single and childless. All flit between sexual partners and resist committed relationships. All are a million miles from the job, mortgage and parenting realities that fill my days.
The characters of New Girl seem to fit the category that psychologist Jeffrey Jensen Arnett terms "emerging adulthood." Arnett believes that contemporary industrialized society has fostered a new developmental stage between adolescence and adulthood. Emerging adults postpone marriage and parenthood "until at least their late twenties, and spend their late teens through their mid-twenties in self-focused exploration as they try out different possibilities in love and work" (to quote Arnett's website).