Get our free Holy Week guide for reflection  
Provide your email address below to download this free guide.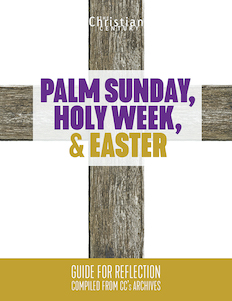 During this time of social distancing, the guide may prove particularly helpful in providing a meaningful Holy Week experience whether alone, with family, or connected to community via technology.
As you move through Holy Week, this 15-page downloadable resource offers articles from the Century's archives, along with questions meant to spark thought and conversation. If you begin on Palm Sunday, there is a reading for each day through Easter. We invite you to share this resource with friends and family. You may want to video chat, email or talk with them about it or you can choose to use this guide in your personal study.
Having trouble with this form? Email us.