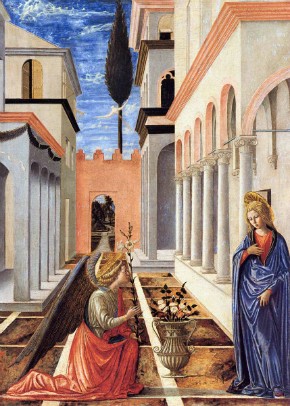 The year has rolled round, its course arrested by violent events on the world stage as well as by personal joys and griefs, but it has rolled round nonetheless, and now it is Christmas again. As a foretaste of the holidays, my husband and I recently visited the National Gallery of Art in Washington. The mood in the great rotunda was festive, the marble columns as triumphantly neoclassical as the Parisian Pantheon, the massive central fountain garlanded for the season; and atop the fountain was a bronze Mercury—patron of eloquence and art—rising from the mist on winged tiptoe, one arm bent down to grasp his caduceus and the other raised in a graceful arc, his finger pointing skyward as if directing our gaze to the empyrean where the arts reside.
How best to follow Mercury's direction, I wondered, with my wingless feet? We've all experienced the enervation produced by tromping through every gallery of an important museum; it's not the amount of walking per se, I think, but the angst that comes from speed-dating masterpieces that deserve a committed relationship. I did do a fair amount of speed-dating and was exhausted by it, but then I settled down to study two works that seemed especially intriguing.
Traveling east from the rotunda, I entered a smaller round gallery dedicated to the four-part series The Voyage of Life, twice painted in the early 1840s by Thomas Cole (the first version belongs to the Munson-Williams-Proctor Arts Institute) and the subject thereafter of popular engravings. Cole was a pioneer of the Hudson River School, a group of Romantic painters whose images of the American landscape, both pastoral and sublime, were suffused with impressions of divinity.