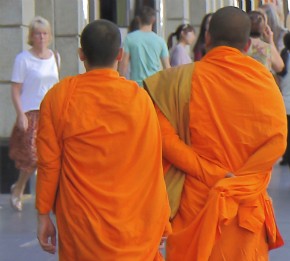 I am writing the day after commencement exercises at Piedmont College, where—for the first time in living memory—a student wearing a sparkly blue hijab walked across the stage to receive her diploma. Her family was easy to spot in the bleachers. They too wore hijab, which set them apart from the crowd as head coverings are meant to do. The women were observant Muslims, come to watch one of their own graduate from a small, church-related college in rural Georgia.
If this would not make the news where you live, perhaps you will receive my comment on it as a bulletin from the heartland, where the religious landscape is changing so quickly that most Christians do not know what to make of it. While there are not enough Jews in Habersham County to make a minyan, and the Muslims who live here have to order halal meat from somewhere else, there are two Laotian Buddhist temples in this county of 43,000 people, both built within the last ten years.
Although both communities are registered with the IRS as "church organizations" and both have active Facebook pages, they are invisible on the web page of the Habersham County Chamber of Commerce, which lists just seven churches—all Protestant—and offers a snapshot of the county's residents as white (85 percent), black (3 percent), and Hispanic (12 percent). Since a significant number of Protestants here view Roman Catholics not as members of a different denomination but as members of a different religion, the fact that the majority of elementary school students are Latino/a adds another wrinkle to the religious landscape.