Premarital wisdom: How pastors are counseling same-sex couples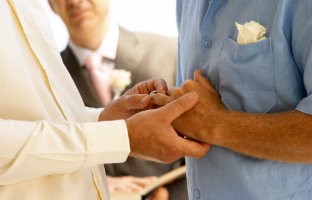 When Stephanie and Robin came to see Episcopal priest Ali Lufkin, they were not thinking about arranging a commitment ceremony. They simply wanted Lufkin to help them work through the difficulties that their very different backgrounds and histories brought to their relationship.
Stephanie had been married to a man and raised three children. Robin had struggled for years with living out her sexual orientation while belonging to a religious community that disapproved of it. "We wanted to draw wise people around us," Stephanie said, "who might help us to see what we might not be able to see."
Eventually, however, the two decided they wanted a covenant ceremony, and this led to a new set of questions: What would the ceremony look like? What would their vows say? How did they each interpret the meaning of a covenantal relationship? How would friends and family respond to their relationship and this public witness to it? There wasn't a script already written for them.