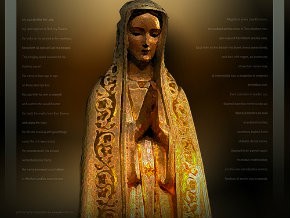 He has brought down the powerful from their thrones, and lifted up the lowly; he has filled the hungry with good things, and sent the rich away empty. (Luke 1:52–53)

These are powerful words, revolutionary words. They belong not to Karl Marx, but to Mary.
Christians have always been uncomfortable with these words sung by Mary, in the canticle known as the Magnificat. I read that when Luther translated the Bible into German, he left the Magnificat in Latin because the German princes who supported Luther's struggles with Rome took a dim view of the mighty being brought down from their thrones.
Advent takes us places we would rather not go. It begins with a sweet story that has a decided edge to it. A young, unmarried girl was pregnant, and that was not good news. She was promised to an older man but then had a dream in which she was told that God had chosen her to bear a child. Unaccountably, bravely, Mary, perhaps only 14 years old, consented. "Let it be to me according to your word." That moment of annunciation and consent has been painted many times, perhaps most strikingly in Fra Angelico's The Annunciation in the San Marco convent in Florence.