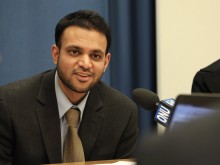 Rashad Hussain has been confirmed as the US ambassador-at-large for international religious freedom, making him the first Muslim American in the role.
Hussain was confirmed by the US Senate by an 85–5 vote.
Hussain, 42, previously served as White House counsel during the Obama administration, as special envoy to the Organization of Islamic Cooperation, and as US special envoy for the Center for Strategic Counterterrorism Communications.