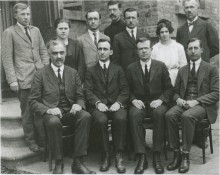 Mennonite Central Committee's centennial didn't start the way anyone had planned.
Like many nonprofits, the global development organization was hit hard by COVID-19. In May, MCC an­nounced that, due to the travel restrictions and an uncertain financial future related to the pandemic, it would be ending all programming in Vietnam, China, and southern Africa. Additionally, programming in the Middle East, Europe, and Central America would be downsized.
Thirteen staff positions ended with the fiscal year.