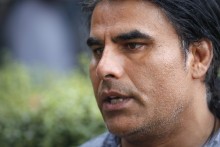 Abdul Aziz was among ten people to receive New Zealand's highest honor for civilian bravery on December 16, 2021. Aziz is one of two Muslim worshipers who at different times charged toward a gunman to try to stop his massacre.
Aziz survived after dodging bullets and chasing the gunman away in the 2019 attack at two Christchurch mosques, in which 51 people were killed. Naeem Rashid, the other worshiper, was killed when he tried to tackle the gunman.
The New Zealand Cross has previously been given to just two other people since it was founded in 1999.