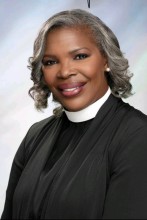 Ammie L. Davis has been named presi­dent and dean of Turner Theological Seminary. She will be the first woman to head the African Methodist Episcopal institution in Atlanta.
Davis currently serves as pastor of Zion Chapel AME Church in Hatties­burg, Mississippi, and as connectional first vice president of AME/Women in Ministry. She is also state director of the Child Evan­gelism Fellowship of Mississippi.
Prior to pastoring, Davis spent almost 28 years in the US Navy—14 as a hospital corpsman and 13 as a chaplain. She retired from active military service in 2016.