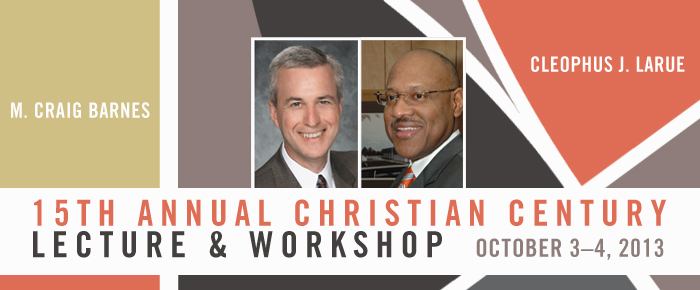 15th Annual Christian Century Lecture
"Humility and Expectation"
M. Craig Barnes is President of Princeton Theological Seminary, where he also serves as professor of pastoral ministry. He is the author of eight books, including The Pastor as Minor Poet.
Thursday, October 3, 2013
at 7 p.m.
(lecture followed by reception)
Registration: $100
Arts Club of Chicago
201 East Ontario Street, Chicago
---
Pastors' Workshop With Cleophus J. LaRue
"Preaching Faithfully to the Faithless"
Cleophus J. LaRue is a minister in the National Baptist Convention of America and a professor of preaching at Princeton Theological Seminary. His books include I Believe I'll Testify and More Power in the Pulpit.
Friday, October 4, 2013
from 9 a.m. to noon
Registration: $45
Fourth Presbyterian Church
126 East Chestnut Street, Chicago
---

Or send a check payable to:
The Christian Century, 104 S. Michigan Ave., Suite 1100, Chicago, IL 60603
No refunds after October 1
___________________________
Questions? Call (312) 263-7510 ext. 229
or e-mail: event@christiancentury.org